Plain and Fancy
Marti Rogers
Accompanying Herself on Autoharp,  Guitar, and Appalachian Mountain Lap Dulcimer
with Tom Levy on Upright Bass
and Special Guests:
Tom Tucker:  Banjo, Bouzouki, Mandolin, Guitar, Coins, Vocals
Marianne Tucker : Whistle, Bones, Vocals
Tom Wade:  Dobro
Shady Grove
Pretty Saro
Rambler's Woman
Birmingham Sunday
Fair & Tender Maidens
Cuckoo / 4th Day of July
Barbara Allen
Johnny, I Hardly Knew You
Clark's Tour
Piney Hill
Lucid, The Rambler
Gold Doubloon
...if you know who Jean Ritchie is, it'll be the first thing you think of when the disc starts spinning -- as you listen to Marti Rogers, and Plain & Fancy's pleasures will find their way to you.-  Jerome Clark
Read More About the Recording and Listen to Sample Clips.
(Keep in mind that the "real thing" will sound better.)
<![if !vml]>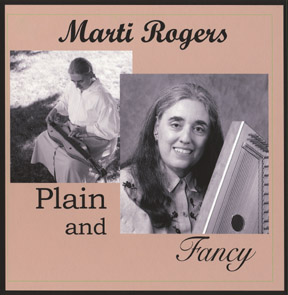 <![endif]>
Old Songs for Young Folks
...and Other Folks Too
Marti Rogers
Accompanying Herself on  Autoharp, Guitar, and Appalachian Mountain Lap Dulcimer
with Tom Levy on Upright Bass Fiddle and Bodhran (Irish drum)
Working on the Railroad
Darby Ram
Oh, Susanna
Low Bridge on the  Erie Canal
My Darling, Clementine
Sweet Betsy From Pike
Home on the Range
39 French Brothers Instrumental:  Three Blind Mice, Frere Jacques, Ode to Joy
Sing a Song of Six Pence
Oh Where Has My Little Dog Gone?
I Love Little Kitty
Twenty Froggies
Nursery Rymin': Instrumental:  Go Tell Aunt Rhody; Mary Had a Little Lamb; Twinkle, Twinkle Little Star;
Yankee Doodle
Paper Of Pins
There's A Hole in My Bucket
On the Banks of the Yukon
Daisy Bell or Bicycle Built for Two
Froggie Went a Courtin
"Yankee Doodle" was chosen by The Listening Project for Conservatory Lab Charter School as one of 30 songs to be studied over the course of a year.
(Others included "Old Dan Tucker" sung by Pete Seeger and "Amazing Grace" sung by Judy Collins)
Read More About the Recording and Listen to Sample Clips.
(Keep in mind that the "real thing" will sound better.)
<![if !vml]>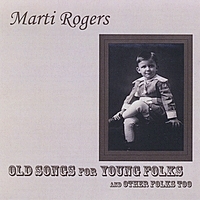 <![endif]>